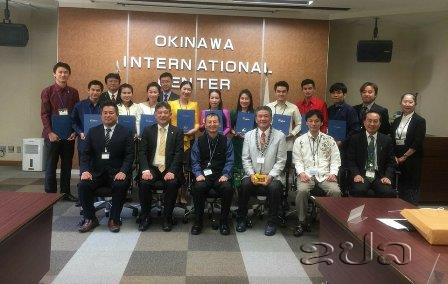 3rd Left from right Mr Kawasaki Mitsuyoshi
Manythone Keolangsy
(KPL) The Japan International Cooperation Agency (JICA) funded a two-week training course on "Knowledge Co-Creation Programme for Young Leaders" under the theme Policy on Information and Communication for ten Lao youth officials from Nov 27 to Dec 12, 2017.
The course, an activity of the International Cooperation Programme of the government of Japan, was conducted by Toshikatsu Tsuzuki of Fujitsu Learning Media Limited.
A graduation ceremony for the trainees was held on Dec 12 at the Okinawa International Centre where certificates were presented to the trainees by Director General of JICA Okinawa Kawasaki Mitsuyoshi.
The course aimed to foster personnel who will formulate policies relevant to Information and Communication Technology (ICT) in the near future in Laos.
"Since ICT innovation can better improve people's lives, a policy formulator should always keep eyes on current trends in ICT and should be able to decide what to, where to, and how to apply appropriate technologies with clearly understanding the roles of the government," said Mr Kawasaki.
The purpose of the training course was to offer chances for participants to observe various ICT application cases in Japan and facilitate them to understand what they should do in the future as a policy formulator.
The training course also offered opportunities for the participants and Japanese citizens to learn from each other and think and create new idea together.
During the training, the participants also had study tours in well known places in Okinawa Prefecture such as Okinawa Metrological Station, Naha Airport, Ishikawa prefectural government office, Okinawa Polytechnic College, Ocean Expo Park, Eco-Park Miyako, Bio-ethanol Plant, Underground Dams and Conditions in Miyako Island, National Project for Miyako Land Improvement and Yaeyama Hospital in Ishigaki Jima.