Geotrans Logistics and Movers (Laos) Co., Ltd is a well established freight forwarder and movers, whose office is located in Vientiane Capital City of the LAO P.D.R. offering a wide range of services in the transportation, freight forwarding and household goods removal services such as:
Sea Freight

 

Air Freight;

In land Transport;

Thai-Laos and Vietnam-Laos Inland Cross Border;

 Project Cargo Handling;

 

Custom Clearance and Special Clearance;

 

Warehousing;

 

Complete Household Goods and Personal Effects Removal;



Geotrans Logistics and Movers believes its success is dependent on responsive, competent and motivated people who have deep understanding of the total business environment.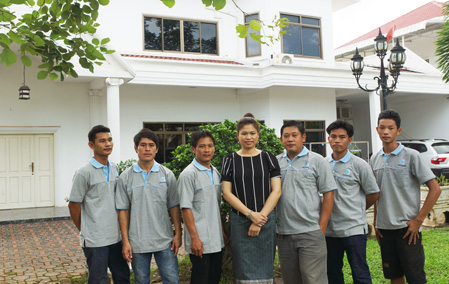 THE GEOTRANS POLICY OF COMMITMENT
Since its founding, Geotrans Logistics & Movers has been committed to constantly improve its level of customer service and fierce commitment to excellence quality.
When you deal with Geotrans Logistics and Movers, you are guaranteed a professional and experienced team
who are committed to finding solutions to your specific shipping requirements at every single step.
GEOTRANS VALUES
Good delivered according to our promises and commitments.
Excellent service the first time, every time.
Our people are fundamental to the success of our business.
Treat our individual customer with dignity and integrity at all times.
Respect yourself, your teamwork, your customers.
Aptitude for learning.
Not just doing things right, but doing the right things.
Satisfy the needs of our customers.
http://www.geotrans.laopdr.com/
---

SAYFON Logistics is a Lao freight forwarder and moving company. In response to increasing activities, SAYFON Logistics has expanded with the opening of an office in Vientiane. SAYFON Logistics was worked hard and actively with many actors to be close to the projects and understand the process formalities.
The strength of the SAYFON Logistics , a combination of personal service from an experienced and enthusiastic multi-ethnic workforce, is the key to our current success and future development.
Specialized in all areas of transportation and logistics, SAYFON Logistics provides customized solutions for Domestic & International Removal-Relocation Services, Worldwide.
With our branch office in Pakse (Southern Province of Champassak) we will reach a strategic coverage level in the Greater Mekong Delta area, we the purpuse of anticipating West-East transportation corridor .
These strategic locations enable us to be closer to our customer and provide with reliable and high-quality services for all-round satisfaction. SAYFON Logistics is capable of organizing a full range of transport and logistics functions, coordinating the handling of your cargo around the world.
SAYFON Logistics establishes his know-how and skill on an International network reputation too and is available to share with You it's expertise which You may benefit from.
http://www.sayfonlogistics.com/
---


Welcome to Lao Freight Forwarder Co.,LTD
Established in 1977, originally we were a state inland trucking company, the AUTO TRANSPORT
COMPANY. It was the biggest trucking company in the country with a fleet of more than 500 trucks
and equipment.
Our service covered the whole country and especially between Danang port of Vietnam and all destinations within Laos. We offered the services for Customs Documentation, Port clearance, Warehousing, Transportation, transport Supervision.
We handled from daily consumable goods to heavy construction equipment and special cargo such as industrial explosives, project cargoes and others.
1987 marked a radical change in our company for the reason that there had never been a company arranging transport service. We split from the original company to form a new company called TRANSPORT SERVICE COMPANY and we have received right from Government to operate the Lao warehouse in Danang port. We also provided all the works relating to transportation as previously done by the former company and we still own a fleet of more than 20 trucks and equipment.
In July 1989 our company was granted the right to do Freight Forwarding and renamed LAO FREIGHT FORWARDER to become the first fully state-owned company under the Ministry of Communication, Transport, Post and Construction offering Inland Transport, Packing and full range of Freight Forwarding services.
Since March 1995, under the privatization policy of the Government, our company has been privatized and we are now the leading Freight Forwarding Company in the country with a registered capital equivalent to USD 237,500.00.
Our provided services are:
– Import and Export Customs Clearance and Formalities,
– Export Packaging,
– Warehousing service,
– Household goods Removal,
– Inland Trucking service,
– Sea and Air Forwarding services,
– Project Cargo handling,
– River Transport.